Breast pocket: yes or no?
Is a shirt better with or without breast pocket? If you use to wear shirts, you have probably asked yourself this question at least once.
The shirt is a garment that can be worn in any context. Therefore, it is certainly one of the fundamental pieces that every man should have in his wardrobe. All the available customizations, such as the collar, buttons, cuffs and pocket, determine the casual or formal look of the garment. For this reason it is important to always choose the most suitable ones.
The breast pocket on the shirt is a detail that appeared quite recently. This was especially to meet some practical needs that emerged with the fall into disuse of the waistcoat. Consequently, you can simply solve the doubt "Breast pocket: yes or no?" by considering your needs, your tastes and the context of use.
For example, if you use to carry certain items with you, such as business cards, pens or banknotes, a pocket shirt may be the ideal solution. On the other hand, if you are looking for a garment to wear in a formal context, the version without a breast pocket is preferable.
Here there is a series of easy tips to help you better understand in which occasions you can choose the breast pocket and in which, instead, it is better to give it up.
Shirt without breast pocket: when you should choose it
The shirt without breast pocket is the most formal. The smooth, sober and clean front makes it ideal for all formal events, such as ceremonies, but also conservative workplaces. In fact, if you need to take off your jacket during a meeting, the presence of a pocket could damage the symmetry created by the shirt and tie combination. Therefore, in these cases, you should always wear a shirt without breast pocket.
Shirt with breast pocket: when you should choose it
A shirt with breast pocket has a more casual and sporty cut. It is perfect for occasions where you can enjoy more freedom for a more spontaneous style. Even though breast pockets are not often used, they will add some depth to the shirt and also give a more dynamic look. In this regard, we can distinguish two different types of shirt pockets: the round pocket and the pointed pocket.
Round breast pocket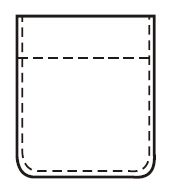 The round breast pocket is the least informal solution and the most suitable for a working context. It is the perfect compromise between elegance and functionality.
Pointed breast pocket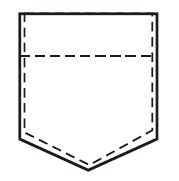 The pointed breast pocket is the more informal solution: more visible and pronounced, characterized by the typical point that extends downwards and by an additional seam. It is perfect for shirts to be used with more sporty clothing, during leisure time, perhaps featuring a button-down collar.
In conclusion, there are only two reasons to opt for a shirt with a breast pocket. The first one is if you want to dress elegantly without looking overly formal. The other is that you may want to wear a shirt that comes in handy at work. 
Discover more at www.cadini.com